Inside BBC Bristol
16 June, 2016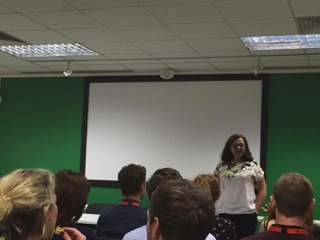 On Tuesday 14th June more than 40 Public Relations professionals gathered at BBC Bristol's headquarters on Whiteladies Road to have a private behind the scenes tour, and a panel discussion and Q&A with seven programme makers from BBC TV, Radio Bristol, Points West and the Head of BBC West, organised by Pinch Point Communications.
It was great to see so many PRs from in house teams at University of Bath, Wessex Water, Avon & Somerset Police, the NHS and The Grand Appeal join with agencies including Plum communications and PR, Synergy Creative, 10Yetis and Purple Fish PR.  I think we found a few frustrated news readers and definitely a great weather reporter or two.
The panel included Joanna Brame, Series Producer of Countryfile; Dave Harvey BBC Bristol Business Editor; Stephanie Marshall Head of Regional and Local Programmes, BBC West); Jess Rudkin, Editor of Radio Bristol, Neil Bennett, Editor of Points West and the producers of BBC Radio Bristol's breakfast and mid morning shows.
There were some great questions and useful insights from the panel, here are my ten top pitching tips:
Listen and watch the programme you are pitching to, build a relationship
Do not ring, or expect a response, when the programme is on air (yes, this really does happen)
Understand the audience – know the demographics
Look out for the new Local Live Channel, this draws on producers focusing on futures and on dailies – understand how it works
Build relationships with journalists, reporters and producers
Be humble – don't assume you know what would work (see above, it's all about relationships)
Countryfile plan months in advance, so think seasonably
Ensure you have articulate, personable spokespeople – and case studies
Don't say you are available, when you are not
It is all about relationships